One of the favorite quo­ta­tions of the cre­ation­ists comes from Lynn Mar­gulis, who said:
It was like con­fess­ing a mur­der when I dis­cov­ered I was not a neo-Dar­win­ist. … I am def­i­nite­ly a Dar­win­ist though. I think we are miss­ing impor­tant infor­ma­tion about the ori­gins of vari­a­tion. I dif­fer from the neo-Dar­win­ian bul­lies on this point.
They take this to be some sort of apos­ta­sy on the part of a promi­nent biol­o­gist, but it actu­al­ly is much more sophis­ti­cat­ed than that. To under­stand why, it's impor­tant to under­stand what Mar­gulis did and how sci­ence works. Cre­ation­ists tend to skip those steps, and mis­un­der­stand this quote. The Pan­da's Thumb looked a lit­tle more care­ful­ly at the con­text of the quote, and debunked the imme­di­ate mean­ing, but let's look at the broad­er issue.
Mar­gulis achieved a mea­sure of fame (at least among sci­en­tists) in the '80s, by propos­ing some­thing called the Endosym­bi­ot­ic Hypoth­e­sis. To under­stand it, we're going to have to go back into the depths of the week in 9th grade biol­o­gy that cov­ered cell biology.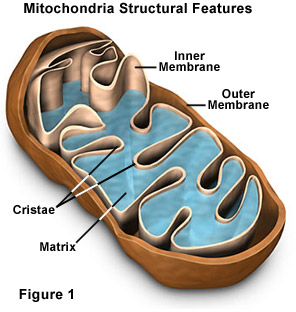 Almost all eukary­otes (organ­isms whose cells have mem­brane bound nuclei) have organelles called mito­chon­dria, the so-called pow­er­house of the cell. Each cell has a bunch of these, and they divide and repli­cate as the cell they're in grows and repli­cates. Each one has a sin­gle loop of DNA, and two mem­branes. With var­i­ous fan­cy pro­teins, they main­tain a pro­ton gra­di­ent which they use to turn food and oxy­gen into use­ful ener­gy (pedants will whine about that descrip­tion because I just sim­pli­fied some­thing peo­ple spend a life­time study­ing into two sen­tences. Read the Wikipedia or click on the illus­tra­tion for the gory details.)
The point I want to empha­size is that these lit­tle bug­gers are com­pli­cat­ed in lots of ways. It's hard to see how some­thing like this would evolve in the mid­dle of a cell. It meets most of the cri­te­ria for Irre­ducible Com­plex­i­ty, though as we'll see, the sto­ry is more com­pli­cat­ed than that.
Lynn Mar­gulis (and oth­ers before her) noticed a cou­ple inter­est­ing things. First, that DNA loop. Oth­er organ­isms with a sin­gle DNA loop are in the Domain Bac­te­ria. Of course, they only have one mem­brane, but when one cell engulfs anoth­er cell, the engulfed cell is sur­round­ed by two mem­brane. Indeed, it's pos­si­ble to get even more mem­branes around a cell that way.
So, we have some­thing that looks a lot like a bac­teri­um that was engulfed by a dif­fer­ent cell. Do some DNA analy­ses, and you learn that the DNA strand in all mito­chon­dria is pret­ty sim­i­lar to a par­tic­u­lar group of Proteobacteria.
The com­plex­i­ty is not so irre­ducible. We just reduced one irre­ducible cell to two reducible cells, a host cell which derives from the Archaea and a sym­biont that derives from the Bacteria.
The oth­er prob­lem now is that dif­fer­ent species have dif­fer­ent num­bers of genes in their mito­chon­dria. Mito­chon­dr­i­al genes some­times shift out of the mito­chon­dri­on and into the nuclear genome. The exis­tence of plas­mids and oth­er sorts of mov­able genes isn't real­ly news, but the fact that the mito­chon­dria are los­ing parts is intrigu­ing, as it sug­gests that they aren't quite as irre­ducible as they might seem on their face.
Why did this inspire Dr. Mar­gulis to say that she "differ[s] from the neo-Dar­win­ian bul­lies"? The neo-Dar­win­ian syn­the­sis is the inter­sec­tion between genet­ics and nat­ur­al selec­tion. As for­mu­lat­ed in the 1940s, it states that there are 4 modes of evo­lu­tion: muta­tion (which would include cross­ing over and oth­er large-scale chro­mo­so­mal rearrange­ments, includ­ing gene dupli­ca­tions), nat­ur­al selec­tion, genet­ic drift (the ten­den­cy of small pop­u­la­tions to be more dom­i­nat­ed by rare events), and gene flow (migra­tion between pop­u­la­tions). In this schema, the only source of nov­el­ty would be muta­tion, the oth­er mech­a­nisms work with the exist­ing variation.
Mar­gulis says she's a Dar­win­ist because she accepts the sci­en­tif­ic evi­dence that nat­ur­al selec­tion hap­pens and the log­i­cal argu­ment show­ing that under fair­ly sim­ple con­di­tions, it must hap­pen. For nat­ur­al selec­tion to occur, there must be more indi­vid­u­als born than can sur­vive and repro­duce, there must be her­i­ta­ble dif­fer­ences between indi­vid­u­als, and indi­vid­u­als with cer­tain her­i­ta­ble traits must be more like­ly to leave off­spring. To the extent Dar­win­ism is any­thing, it is a move­ment that holds this demon­stra­bly true state­ment to be true. Dar­win nev­er claimed that noth­ing else would hap­pen, just that this process has to take place.
Mar­gulis denied being a neo-Dar­win­ian because she was propos­ing a new source of vari­a­tion in bio­log­i­cal sys­tems. As she looked at the cell, she saw numer­ous cas­es that could plau­si­bly be explained by the same process of engulf­ment and inte­gra­tion that the mito­chon­dria appear to have gone through. The chloro­plast is a well doc­u­ment­ed case which also has a DNA loop, and appears to have orig­i­nat­ed as a cyanobacterium.
The talk she was deliv­er­ing when she made the com­ments quot­ed above was about the pos­si­bil­i­ty that the nucle­us orig­i­nat­ed in the same way. She also has pro­posed that fla­gel­lae, cil­ia and per­ox­i­somes may have endosym­bi­ot­ic ori­gins, though the evi­dence is shaky to non-exis­tent for all but the mito­chon­dria and the chloroplasts.
There are two impor­tant points here. First, con­trary to the claims implic­it in most cre­ation­ist work (includ­ing IDC), it is pos­si­ble to dis­agree with the neo-Dar­win­ian syn­the­sis with­out endors­ing cre­ation­ism. "Neo-Dar­win­ism" and cre­ation­ism could both be wrong, but you don't hear much about that from Dem­b­s­ki, who claims that he can elim­i­nate all pos­si­ble expla­na­tions based on Chance or Reg­u­lar­i­ty in one fell swoop. That would mean that Mar­gulis should­n't have even both­ered look­ing for nat­ur­al expla­na­tions for bio­log­i­cal com­plex­i­ty. Dem­b­s­ki could have elim­i­nat­ed her hypoth­e­sis with­out even know­ing what it was, had he come along a few years earlier.
The sec­ond point is that this is how sci­ence works. Con­front­ed with a real chal­lenge, the ori­gin of a very com­plex struc­ture inti­mate­ly linked to the func­tion­ing of a cell, sci­en­tists did­n't toss up their hands, declare "God­did­it," and play cards for the rest of the day. They gath­ered evi­dence, stud­ied the sys­tem, thought care­ful­ly about testable hypothe­ses, and gath­ered data. They eval­u­at­ed their hypothe­ses, and if their pre­dic­tions were right, they test­ed the hypoth­e­sis some more. If they were wrong, it was time for a new hypoth­e­sis. Most of my young bio majors were able to list those steps on their lab exams.
That's sci­ence. It's how the game is played. And one step at a time, you break some­thing that seems irre­ducibly com­plex down into its components.
When I say that cre­ation­ism is an argu­ment from igno­rance, this is what I'm talk­ing about. It's not that cre­ation­ists are nec­es­sar­i­ly more igno­rant than any­one else, just that humans are imper­fect, our knowl­edge will nev­er be com­plete, and we're all igno­rant on some issues.
On the oth­er hand, cre­ation­ists nev­er talk about endosym­bio­sis. They talk about nat­ur­al selec­tion and muta­tion, ignor­ing the fact that endosym­bio­sis is a well-doc­u­ment­ed addi­tion to the list of four (not two) evo­lu­tion­ary mech­a­nisms that go back 60 years. That omis­sion can only be ascribed to igno­rance or mal­ice, and Han­lon's Razor com­pels me to go with ignorance.